Electives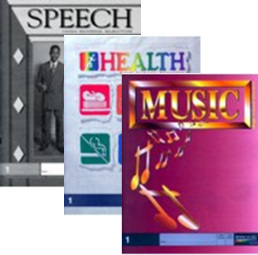 ELECTIVES – 9TH GRADE LEVEL
Each high school student should add 1-2 elective courses in Grade 9.
Here are some suggested electives:
New Testament Survey (1 credit): A course designed to introduce the student to the penman, the place, the period, the problem, the peculiarities, the purpose, and the plan of each book. This course contains a special project the student must do before he can complete the Test.
General Business (1 credit): A study introducing upper-level high school students to the world of business: markets, consumer studies, advertising, corporations and industries, careers in business, production, labor, federal control, International business, banking, and finance.
Health (1/2 Credit): Health issues of vital concern to the well-being of the body are covered in this course. Material includes: basic information about the human body—its functions and limitations, malnutrition, nutrition and the well-balanced diet, exercise and physical fitness, CPR (cardiopulmonary resuscitation), first aid and safety, health hazards, cancer, heart disease, and AIDS.
Basic Literature 9 (1/2 credit): In completing this course, the student gets a sampling of the classics as well as more modern literature. With each book, he completes a Study Guide of questions and writes an appropriate essay.
Music (1/2 credit): If you don't know the difference between a sharp and a flat, an oboe and a clarinet, a tenor and a bass, or a symphony and an opera, this course is for you! Designed for the serious music students, this six-PACE course can also be a tremendous teaching tool for music teachers and church or school choir directors. Students are introduced to various kinds of instruments and are taught how to read music, find notes on a keyboard, and learn to recognize notes, key signatures, and time signatures.
The final PACE, Developing an Appreciation for Music, presents biographies of well-known composers, and requires two audio CDs with one or more selections by each composer. Students are tested on their ability to recognize theme music from some of the selections.
ELECTIVES – 10TH GRADE LEVEL
Each high school student should add 2 elective courses in Grade 10.
Here are some suggested electives:
French (1 credit): High school students are introduced to the French language with special emphasis on developing good Redding skills. Upon completion students should have an understanding of the accidence (inflection of words) of the French language and will have had several opportunities to utilize the lessons learned through practice Redding and taped lectures.
Spanish I (1 credit): The exciting Spanish I course represents a first in the DVD-Activity Pac format. The DVDs present the instructional content, and the Activity Pacs provide the drill and learning activities. The course consists of 24 instructional DVDs, 12 Activity Pacs, 1Test DVD, and 4 Score Keys.
You will appreciate the special features included in this unique instructional design that provides academic excellence with Biblical emphasis and wisdom principles. Your high school students will enjoy learning conversational Spanish and Spanish grammar with this all-new innovative Spanish I course. (DVDs are required.)
Rosetta Stone (2 Credits): A.C.E. is pleased to offer twenty-seven foreign languages through Rosetta Stone, a computer-based program.
Rosetta Stone is one of the world's foremost authorities on foreign language study. The program is built to cater to any student's learning style, be it auditory, visual, or kinetic.
Each Level 1 course consists of eight units. Each four units are worth one credit, and upon completion of all eight units the student will earn two credits in the language. Each Level 2 course consists of eleven units. The first five units are worth one credit and the last six units will earn the student a second credit. See page 64 for more information.
Typing (1 credit): Mastery of the keyboard is the aim of these PACEs. This course acquaints students with the typewriter and with various typing jobs encountered in school, church, or office. Regular drill and practice to improve speedy and accuracy are included.
Speech (1/2 credit): The basics of effective speaking are covered in this course with such fundamentals as: stage presence, diaphragmatic breathing, articulation, effective gestures, and inflection. The achievement of vocal purity, variety in pitch, pronunciation, and the best choice of vocabulary—all this is a part of this PACE course.
Included is training in facial expressions, correct posture, and eye contact. Students are instructed in how to deal with stage fright, how to convert nervous tension into positive energy, and how to relax and express emotion and enthusiasm. So that individuals can approach an audience with confidence, they are shown how to mark a script, provided with tips on memorization skills, given rehearsal tips, and self-evaluation help. Students learn how to apply what they have been taught in the PACEs through the presentation of speeches.
A DVD of sample presentations offers hands-on experience in platform performance. It is recommended that an adult monitor the student's progress in this course.
Advanced Art (1 credit): Advanced studies in art that increase high school students' appreciation for art with an emphasis on the symbols, shapes, observation and perspective, light and shade, variety and mood, color, the drawing of people and clothes, landscapes, lettering, and layouts.
ELECTIVES – 11TH GRADE LEVEL
Each high school student should add 2 elective courses in Grade 11.
Here are some suggested electives:
Life of Christ (1 credit): Written on the senior high school level, this course will greatly increase the student's understanding of the Gospels. As he studies the background of the Gospels, the world as it was in Christ's day, the Jews—their characteristics and habits—and aspects of Christ's life, ministry, death, and resurrection, he gains insights that will enhance his personal walk with the Saviour.
Introduction to Missions (1/2 credit): Missionary biography and autobiography have long been recognized as an important key to touch the heart and introduce people to worldwide missions. In this course, the student gains an appreciation of what has helped shape the course of mission work. The video Wings of the Morning is recommended to be used in conjunction with PACE 6. (See page 22 in the Individual Curriculum Listing.)
ELECTIVES – 12TH GRADE LEVEL
Each high school student should add 2 elective courses in Grade 12.
Here are some suggested electives:
Christian Growth (1/2 credit): These PACEs introduce the student to books by leading Christian authors on aspects of living a triumphant Christian life. Books used with the PACEs provide examples and practical, realistic information that is motivational as well as inspirational.
Business Math (1 credit): A broad review of general math sets the stage for a study that helps students apply learned skills to various practical situations in the home and business world. Students master concepts such as checkbook reconciliation, budget preparation, calculation of discounts, and insurance acquisition.
Collectivism (1/2 credit): This course traces the history of collectivism, starting with the revolt of Satan and the subsequent fall of man. It concludes with a detailed look at the major twentieth-century "isms." The study is designed to give students an awareness of the humanistic aspects of "ism" ideologies from a biblical point of view.