Social Studies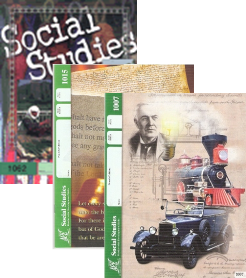 1ST GRADE LEVEL: Grade 1 builds reading skills while introducing young students to the basic principles of life. Students learn to recognize and are challenged and motivated to do what is right. They also learn to be kind, to share, and to be obedient to rules and laws. This grade requires reading character-building stories and answering questions.
2ND GRADE LEVEL: This level of material while continuing to build reading skills, also builds visual discrimination and vocabulary. It teaches about our nation and some of the great political and godly leaders of the past.
3RD GRADE LEVEL: This grade covers communication, conservation, communities, agriculture, geography, and the discovery of America, along with colonization and slavery.
This positive approach to history encourages your child to love and respect his country. The heroes and heroines to whom he is introduced provide role models representing ideals and aspirations for which the student can reach.
4TH GRADE LEVEL: Students do required reading and write their answers to questions in cursive. They learn to use maps and globes for understanding world geography and cultures. As he learns about each continent, he also learns about a missionary who served in that area. (Accelerated Christian Education now offers Florida State History.)
5TH GRADE LEVEL: This level focuses on American history in a decidedly biblical approach and sets forth relationships of social and economic development. The material includes systems of government, great leaders, wars, and current events affecting our world.
6TH GRADE LEVEL: The student studies history from Adam through the Great Awakening. The course includes an introduction to Bible, early Church, and Reformation leaders.
7TH GRADE LEVEL: This new Career course provides an excellent overview of major career and ministry opportunities. Students will learn the gifts and skills needed, as well as the educational requirements expected, for each lifework goal. This course focuses on encouraging students to find God's will for their lives, follow His leading, and be Godly testimonies in their chosen profession or God-called ministry. (The second half of this level allows for the appropriate state history course.
8TH GRADE LEVEL: What was it like to be a sailor on one of Columbus' ships, to be a slave during the War Between the States, or to be the first man to step onto the surface of the moon? History seems to come alive with the "You are there" vignettes in this course. Historical facts are presented in a way that personally involves the student in the exciting events in American history. Understanding of the subject matter is enhanced with time lines, maps, and activity questions that require an understanding of the concepts and interpretation, as well as memorization of facts. Each PACE combines a reusable Text Pac and a consumable Activity Pac.
9TH GRADE LEVEL: Can you find Djibouti on a world map? What is the climate like in Afghanistan? What are the primary geographical features of Australia? How have the continents of Europe and Asia changed since the fall of communism? The answers to these questions, and much more, can be found in this world geography course.
Included are:
• Reading, drawing, and interpretation of various kinds of maps and a continentby- continent study of geography
• An exciting MAP MANIA, double-page world political map, and single-page climate and topographical maps
• Reusable Text Pac and a consumable Activity Pac.
Optional Resource: Hammond World Atlas
10TH GRADE LEVEL- World History: World history from Creation to the present is viewed from a biblical perspective. The view includes ancient civilizations, the Middle Ages, the Renaissance, colonialism, the age of revolution, spiritual awakenings, and the missionary outreach. Optional Resource: Hammond World Atlas.
11TH GRADE LEVEL – American History: An appreciation for biblical influence develops as the student views American history from the Colonial period to the present. Beginning with discovery of the New
World, the study includes the War for Independence, the Jackson era, the War Between the States, the two World Wars, America's foreign relations after World War II, the Cold War, space exploration, Civil Rights, the United Nations, Watergate, and the awakening which continued on from 1970. Resource books: The Federalist Papers, Hammond World Atlas.
12TH GRADE LEVEL – U.S. Civics/Economics: Do your students realize they have a responsibility toward their government? Do they know enough about their government to take part in its processes? This course will help prepare them by providing a study of the historical foundations of our government. U.S. Civics consists of six full-color, reusable Text Pacs and six consumable Activity Pacs. No resource books are necessary. (1/2 credit)
Accelerated Christian Education has created a 1/2 credit Economics course that introduces students to the biblical foundations for the study of economic systems. Throughout the course, the importance of Biblical ideals and values in the marketplace are emphasized. Each PACE includes a reusable Text Pac and a consumable Activity Pac.