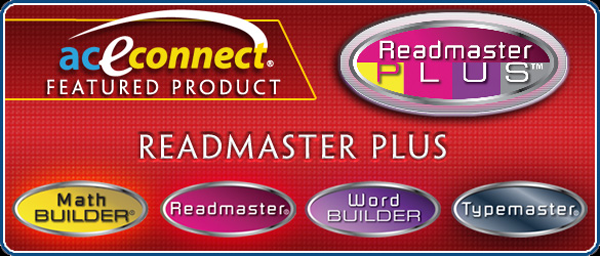 Readmaster Plus is a software suite containing four programs: Readmaster®, Typemaster®, Word Builder, and Math Builder®. These learning enhancement programs are designed to increase a student's proficiency in reading and comprehension, typing, spelling, and basic arithmetic. Readmaster Plus is licensed per computer on a yearly basis for one low price. A.C.E. recommends one license per 10 students using the programs.
Four distinct software programs included on one CD!
Rewards students with special activities included on the CD
Prints out a merit certificate to be used with your school merit system
Prints student history reports for all programs to track student use and progress
Personalizes all of the programs to optimize learning for individual students
Provides a user-friendly environment created by similar style, appearance, and functionality of each program within the suite
Click the following links to find out more about each program:
Typemaster® | Math Builder® | Word Builder | System Requirements
With Readmaster®, Accelerated Christian Education's computerized reading program, students in all grade levels improve their reading rates and comprehension, and they thoroughly enjoy themselves in the process.
Excitement is generated when students participate actively in their education through computer-enhanced learning. One teacher describes the effectiveness of computer use in the classroom as giving students a new lease on education. Since today's children are "visually literate," having grown up with computer technology, there is amazingly heightened motivation to excel with Readmaster®. This program offers high-quality reading selections from the Christian Character Series as well as award-winning selections from International Student Convention written entries. The computerized reading program presents a new approach to reading enhancement, allowing students to reach maximum potential with minimum supervision.
The Readmaster® computerized reading program features:
User-defined character fonts, font sizes, and colors.
Computerized diagnostic testing and scoring.
Automated control of reading rate and reading performance level.
Composite score, based on words per minute at 100 percent comprehension.
Computerized comprehension test with automated scoring and student review mode.
Reading performance tracking and reporting system.
Reading selections from the quality Christian Character Series.
Maximum performance with minimum supervision.
Vocabulary drill.
For more information, please contact the A.C.E. Representative.